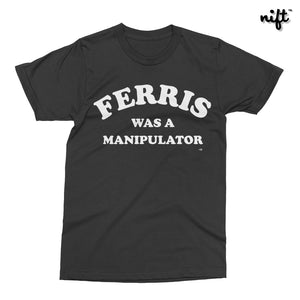 noun 
1
. a person who controls or influences others in a clever or unscrupulous way.
2
. a person who handles or controls something skilfully.
3. also see Ferris Bueller 

Ferris Bueller's Day off is a masterpiece and is a staple to 80's teen comedy cinema. When you're a teen, you look up to Ferris and pretty much think that he's one rad dude. But, watching this movie when you're a bit older and a bit wiser you start to see the movie from a different perspective. The way Ferris treated his girlfriend, best friend, and even his own  parents... Ferris got whatever he wanted and that's because Ferris was a master at his main craft... manipulation.  


Details
Professionally Screen printed by hand and by us.
White Silkscreen Print
Our "NIFT" mark is on our designs to ensure brand authenticity.
T-shirt image shown is a preview of the design, the t-shirt color and size of design may vary slightly.

Machine Wash Cold, Hang to Dry